Exceptional Residential Painting in Livermore CA
15-20% Off
For Interior and Exterior Paint Projects.
Get $50 Per Window
We'll pay you for all your old aluminum window frames.
Buy 10+ Windows
And we'll give you $1000 off the total.
INTERIOR & EXTERIOR PAINTING
Landmark Exteriors has been your
residential painting expert in Livermore, CA and

throughout the Bay Area area since 1992.
Why Your Home Needs A New Coat of Paint?
With expert residential painting services, your home's interior and exterior will benefit from a new paint job. A new paint job will protect your home, reduce your future maintenance costs and increase your home's value.
Painting protects your home from:
Dry rot replacement
Unsealed cracks in stucco homes
Water damage
Termites
And many other issues!
And painting your house just feels good! When your house is painted and you've put your stamp on it after picking the perfect colors, you know that your house is your castle and you can enjoy the beautiful new look you've created.
Have trouble picking a color?
Landmark exteriors will help you find the perfect color combinations for your home. Contact us for more information on our design consultations!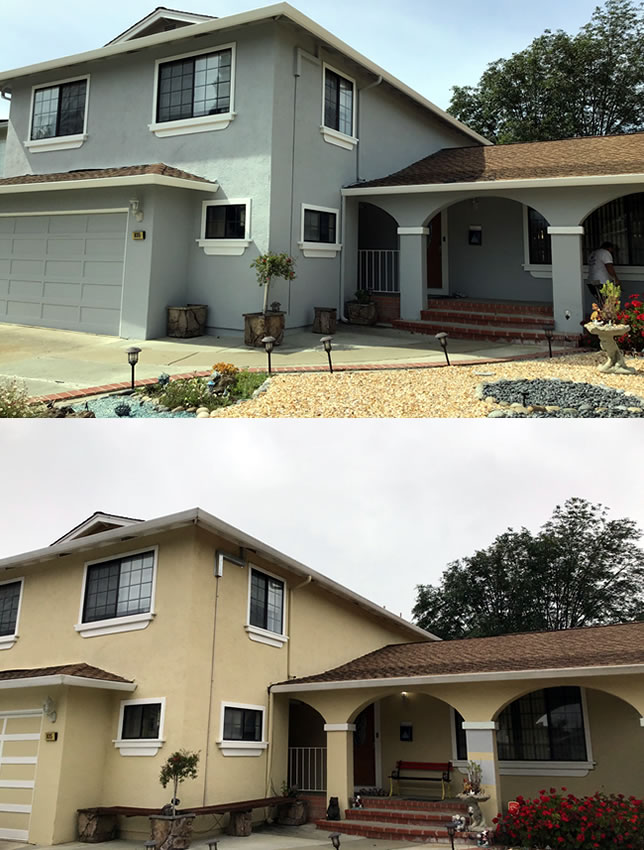 LIFETIME WARRANTY
Set up a free painting consultation and estimate with us and get a lifetime warranty on your paint for FREE!
The 6-Step Landmark Exterior Painting Process:
Power washing the home to clean the surface of cobwebs, dirt, organic growth, etc.
Prep the wood by sanding down, caulking, and adding wood filler where needed. When working with stucco, we will fill in hairline cracks or stress cracks with elastomeric paint, which expands and seals up the stucco as it dries. Also, we apply a stucco patch if there are holes or chips in the stucco.
We will cover and tape off all the windows so no paint gets on the glass.
Now it's time to paint. We usually spray the main surfaces and then do the trim work by hand.
Add touch-ups, if needed.
Finally, we will go over the entire house with you, the homeowner, to make sure everyone is satisfied.
Landmark Exteriors uses premium grade paints but not all paint is created equal.
We paint Cabinets!
A great alternative to the high cost of new cabinet replacement.
Impressed
We had the exterior of our house painted by Landmark recently. They pressure washed the whole house, wrapped everything not to be painted in plastic that night, returned the next morning, and finished the whole job in 3 days. It looks fantastic! The team was professional and courteous. There was no paint on anything that wasn't supposed to be painted, and they didn't even trample my flowers which are right up next to the house. We had gotten another quote previously and these guys had the better price as well. We were impressed with Landmark.
~ Eve • Alameda, CA
I would highly recommend this company!!
I am so pleased with landmark exteriors workmanship! We had our windows replaced and house painted and we are not only so happy with the end result but it was a pleasure to work with both window and painting crews! They were friendly, clean and very accommodating! I also have to say it was very nice working with Taylor and Stuart as well! They were nice, helpful and willing to work with us on payments as we thought we would need, luckily we didn't! I would highly recommend this company!!
~ Micaella • Livermore, CA
Very professional team!
We had windows done as well as exterior paint. Very professional team! They did an excellent job! I thought I needed a new roof and after talking with them they suggested not replacing for another year…saving my $$$$. Very honest company!
~ Toula • San Ramon, CA
Exceptional job
Landmark did an exceptional job painting my home. They even did a nice added touch of painting my shed to match for free.
~ Dennis • Tracy, CA